Spread double the love to your family with Zoe in Double Trouble a sweet tale of a princess pup who thinks her world turns upside down when she is surprised by 2 new babies arriving! Find out how Zoe finds the best gift of all with her sister twins!!

Hi! I'm Tracy Murdock, a Jesus loving wife and teacher mom of twins plus one (& a fur baby), and #1 Best-Selling author of a new children's picture book, "Zoe in Double Trouble" and writer here at Your Twin Mom sharing faith and family fun! We are so blessed to have you here!

All in God's goodness, "Zoe in Double Trouble" is a #1 Best-Selling Children's Picture Book and has received positive 5 Star Reviews from many families and Reader's Favorite!
"The illustrations are adorable and the color scheme is probably the best I've seen so far. It is bright, playful, and very pleasing to the eye. I also like the thoughtful, fun and educational scrapbook section at the end. All in all, Tracy Murdock's Zoe in Double Trouble will be a wonderful gift for kids with new siblings."-Reader's Favorite
"Zoe in Double Trouble" will bless your family for years to come!!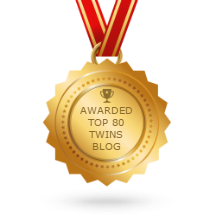 We are so excited to announce that Your Twin Mom has been awarded as one of the top Twin Mom Blogs on Feedspot! What an honor to be listed as a successful twin mom blog to continue uplifting more moms and families around the world!
Bring home "Zoe in Double Trouble"!  This sweet tale of a princess pup who finds the best gift of all with her sister twins will fill your family's hearts with giggles and love!  A bonus family keepsake is included to spread love into your family for years to come!!
Hugs to you and your family!!!
Why Your Twin Mom?
There I was in my pink fluffy bathrobe chasing around my 2 year old twin girls, while holding my 2 month old son and trying to get them all calm for bed. I was in a moment of mom chaos and I felt God say "start writing to other moms". I had no idea how I'd ever have time to start writing but God makes the impossible…POSSIBLE!
I hope sharing my writing dream journey will inspire you to follow your own dreams too, even as a busy mom! Just listen to what God puts in your heart and take the first step!
"For nothing will be impossible with God." Luke 1:37
I believe you are making a difference now just as you are as a mom! Your Twin Mom is about sharing my journey to inspire you and enrich your life, to help you find your best mom self, the mom God created you to be for you and your kids! I know that especially in the early mom years and starting with my twin pregnancy, I have been seeking joy as a mom, and I need faith & love before I can give it to my kids.
We'd love for you to join Your Twin Mom Family for more connection and email me at yourtwinmom@gmail.com! Join us for "Twin Momspiration Tuesdays" in your twin mom groups on @yourtwinmom on IG, IGTV or your twin mom group on FB and fun at your twin mom on Twitter group!!

As you know, mom life is busy and often times it can feel like it's hard to think of ideas to have fun with our kids. So, here we share fun, simple, and creative ways to enjoy your kids and teach them along the way! I love how kids arts & crafts help kids of all levels and ages be creative and enjoy life, which is really helpful in doing activities with a group of kids! Especially with having identical twin girls, I love helping them find their individuality in creative kids activities. You don't have to be "crafty" to get crafty with kids…just simple materials and a little love, and you've got a joyful memory with your kids!
You can also check out my Kids Activities Ideas over at the Stay at Home Mom Survival Guide blog!
More about Your Twin Mom & Family:
I am a wife and a mom of twins plus one! For me, motherhood started with twins. It is really such a busy blessed life! Having Twins is a lot of work, but GOOD work. Really, I could say a lot about this. There are mom struggles that only twin moms can understand and there are mom struggles that every mom can understand, but I think every mom can relate to learning as we go.
The Twin Mom Life:
In my life, God has surrounded by twins and twin moms and I really find an instant connection with twin moms, because what we go through is unique and very special. I live in a neighborhood with 3 sets of twin girls at 3 different life stages, with my preschool twin girls being the youngest. My grandma had fraternal twins, my father in law is a fraternal twin, and I have a handful of local friends with fraternal twins. I had one year when I was teaching which was the same year I found out I was having twins,when I was placed next door to another twin mom friend and later at the same school, twin girls attended plus we had another teacher join us with fraternal twins….so God really surrounds me with twins and I love it:)) A couple weeks ago at church, I met a woman who was a twin and then she introduced me to a woman who was a twin as well. Now, in my church we have 3 total sets of twins all in the same Sunday School class too! I just love those God winks. It's like we are all meant to meet and connect:))

Above, is my picture from my first year with twins and it was tough but it was beautiful because it was a year of great learning & growth in faith and creativity for me.
With having twins first, I know motherhood can be a lot to handle. Since I held my twins in my arms for the first time, I felt what a blessing it was to be a mom and I knew I wanted to make the most of my time with my kids as a mom. I'm on a mission to find ways to enjoy motherhood with my twin girls and now their little brother too!
I love coffee and chocolate ever since having my twin girls! Yes, that's right these crazy beautiful girls even changed my taste buds! I used to only drink tea and loved caramel…not anymore! Thankfully, my son brought back my love of chips and salsa.
I love taking pictures of my kids! Can you tell? It makes my heart happy! Since I can't stop time, I can capture moments in time of fun with my kids. It makes me see the little miracles God blesses us with amidst the messes of motherhood. I'm learning lots about this too!
I married my college sweetheart after graduating from college. I'm so passionate about inspiring joy in kids, that God blessed me to earn a Master's Degree in Education and become an Education Specialist, helping kids with special needs too! Uplifting kids to see the good in who they are and their personal gifts is near and dear to my heart.
For now, I am a stay at home mom, but I feel like I am still teaching all day or are they teaching me?! I have seen firsthand how we moms are our children's first teachers and are so influential in our kids' lives!
My husband and I have been together for 12 years. My hubby and I were shocked when we saw 2 babies in our first ultra sound at 12 weeks and for our first pregnancy. He is my logical engineer, and I am the creative (kid at heart) spirit. Together, we learn something new every day about marriage and being parents of a twin family. We are not perfect but I know God destined us to be together and love on our kids together. We work hard to grow closer together in our parenting struggles. I love when he tells me I am the glue of the family (even though most of the time I feel like I am just wingin' it!).
Hailey(H) was born first by a minute and you can tell. She is always leading and making sure everyone is okay. She loves dressing up and being a princess.
Matilda (M) was born second and was always chill in my belly. She is sweet and sensitive. She loves to nurture little creatures.
My toddler son, Jackson (J), joined our busy twin family when my twins were 2 and he just fit right in. What a lucky little guy he is to have his twin sisters looking after him. They like to chase him around and squish his cheeks. He loves trucks and cars right now!
This picture reminds me we are a team with our kids and all in this together. We can choose to embrace our kids and enjoy this time together (even in the crazy moments).
Just remember you are doing better than you think you are!
We've got this moms!
Enjoy,
      Tracy Murdock
You can email me at yourtwinmom@gmail.com if you'd like to connect or sign up for our newsletter to join Your Twin Mom family!